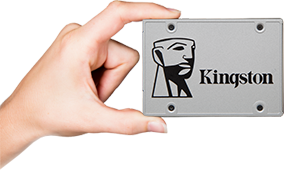 In Hover, a SSD of Kingston Kingston Technology A400 SSD 2.5 SATA III with a size of 120 Gigabyte has been chosen as a system disk. In use is currently about 17Gbyte. For writing on this SSD only 1 watt is needed and at rest this SSD only consumes 0.4 watts, pretty low! Using the SSD makes it easier to stop the hard disks and make a backup.
Two new harddisks are purchased for this version of Hover. Times have changed. Western digital now has new Red harddisk especially produced for NAS systems.WD Red drives with NASware technology are purpose-built to balance performance and reliability in NAS and RAID environments.
Two harddisks come from the previously used NAS. The chosen hard disks (2GB) are from Western Digital in the GREEN version. The specifications are good with a transfer rate of 6Gbit / s, energy consumption of 0.6 watts in stand-by and a maximum of 4.5 watts during reading and writing.